In her exhibition To Draw a Room, visual artist Ingeborg Blom Andersskog experiments with three-dimensional drawing. Her goal is to include the audience in new ways. The body is a central element in her work, and the fascination with phenomenology is essential to her art.
The word phenomena, derived from Greek, means «to manifest / reveal». All our under-standing of the world originates from our body. We experience through it, and then reflect on our experience. The large format and design of the installation offers a corporeal experience and understanding of the work. 
The installation in the exhibition consists of sculptural paper objects in different shapes. The objects are constructed from large sheets of thick paper, which is covered on both sides by overlapping lines drawn using black acrylic markers. The paper is shaped in different ways to produce three-dimensional drawings.
The drawn line is always present in Andersskog's works. It visualises movement, documenting the behaviour of the body. Inspired by the Slow Art philosophy, she uses repetitions and set rules to guide the development of her work. They can act as a ritual of sorts.
I hold the marker in my hand as I walk along the wall. The maker rests on the sheet of paper. I walk slowly, not fast. I walk to the end of the sheet, drawing all the way to the edge. I see the black fluid mass cover the white surface. I turn around and walk back, with the marker still touching the paper, the marker and I drawing new lines, covering new surfaces.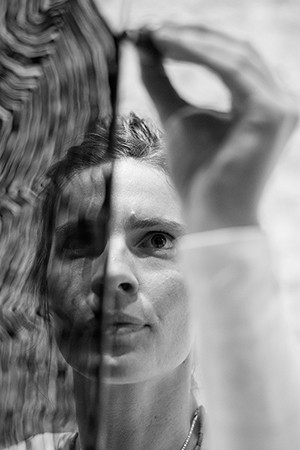 About the artist
Ingeborg Blom Andersskog (b. 1983, Kongsvinger) lives and works in Malmø, Sweden and in Norway. She has a bachelor's degree in ceramics and a master's degree in visual arts from the Bergen Academy of Art and Design and the Jingdezhen Ceramic Institute in China. Andersskog has had numerous exhibitions both at home and internationally, and is due to feature at the Tegnér Museum in Lund, Sweden, at Skien Kunstforening, and at Galleri Christinegård in 2024 and 2025.